Valentine's Day Decorations and Gifts.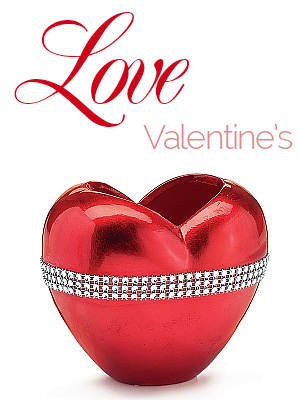 Valentines Decorations Decor and Gifts for Valentine's Day
Shop for Valentines Decorations Valentine's Day Decor and Valentine's Gifts from silk roses leaves and rose petals to marble and metal hearts table top decorations perfect finishing touches for a Love - ly dinner table centerpiece, entry table, fireplace mantel or just about anywhere you want that touch of love in the air for Valentine's Day. Find Valentine's Hearts, Valentine's Wreaths, Happy Valentine's Day and Linen Hand Towels, festive red candles as well Valentine's fragrances for the Home from Maison Berger Paris, Valentine's Day Cards, Valentine's paper napkins, dinner, dessert, and salad plates, Cupids, Mark Roberts Valentine's Fairies, Elves and more. All in styles ranging from stylish and elegant to humorous and fun. 
Valentine's Day Decorations, Decor and Valentine Gifts Collections at Interior Digs N Gifts. Find Valentine's Greeting Cards, Be Mine Cards, I Love You Cards, Jewelry, Love You Trinkets, Heart Decorations, Candles, Valentine's Candies and Chocolates along with Festive Valentine's Day Party Napkins, plates and more.