Valentine's Day Decorating Ideas

Quick and Easy Last-Minute Decorating Ideas for Valentine's Day!
Love is in the air and Valentine's Day is right around the corner so why not adorn your home with some quick touches in celebration of this fun and romantic holiday!
It's not just for lovers so whether you're in love or seeking it, Valentine's Day is a great time to bring some romance and love into your home. What a better time to share and spread some love around yourself and those you cherish.

With a few simple touches here and there you will be well on your way! Here are a few great ideas that are quick, simple, and can be easily accomplished to adorn your home in time for Valentine's. After all it is one of the most romantic days of the year!

If you have Kids or Grandchildren in town...Wahoo! That's an excuse in itself to go all out. Incorporate fun details and bright colors like red and hot pinks along with touches of contrasting pastels. Perhaps toss in some heart shaped throw pillows or valentine themed stuffed animals on the beds. If they enjoy the arts and crafts have them cut out and decorate some hearts, X and O shapes, or get a stack of some packaged hearts. They're great and fun to spread around and hang in their room. String them together to hang across their headboard or from a ceiling fan, windows, mirrors. They're fun to place just about anywhere and brighten any child's imagination and their room.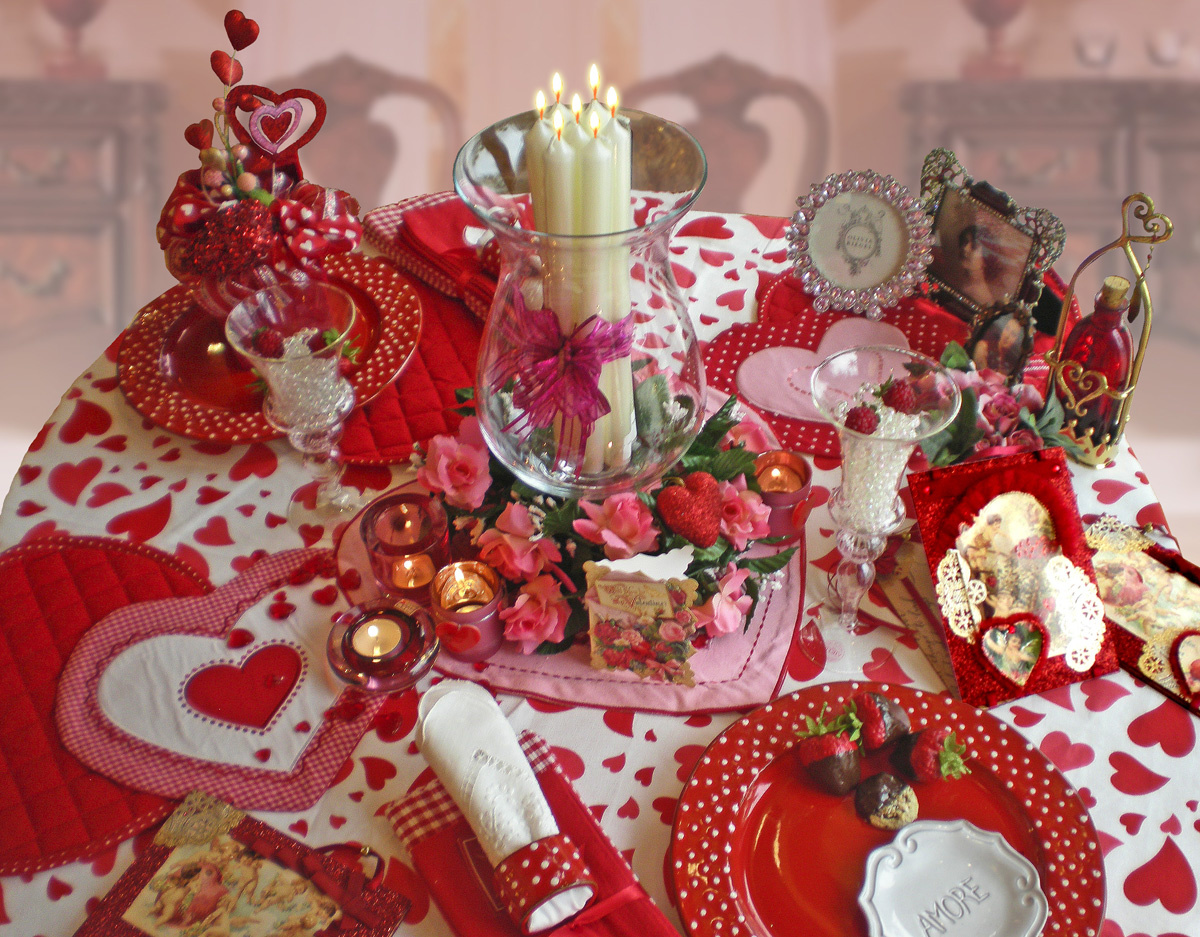 Romantic and intimate dining settings are always fun! It's all in the little details you add whether you creating a casual, whimsical, or fully decked out elegant setting. Take the time to add some simple personal touches to the setting. It can be something as simple as taking some red ribbon and wrapping them around the middle or base of candles you may already have on the table. For myself, I get excited creating a candle bouquet for my centerpiece this season using a footed glass hurricane vase with about 7 to 9 drip less pearled white flat bottomed tapers tied together with sheer red and pinked laced ribbons. They could also be set in sand in a bowl or vase. (Remembering to keep the ribbon well away from the flames and of course never leaving the burning candles unattended).

Another nice simple detail for your loved one or guest are small gifts placed upon the china setting. The wrapped gift not only looks stunning but when embellished with some ribbon and a personalized card makes it even that much more special for your guests.For the gift inside the box, it can be a small personalized message, candies...and better yet jewelry!

A package of valentine's cards can take use as place cards as a quick and simple touch that enhances any setting. These are just a few ideas to get you on your way...once you start your creativity will take its own course and before you know it Love will be in the air. Wishing you a Happy Valentine's Day filled with love!