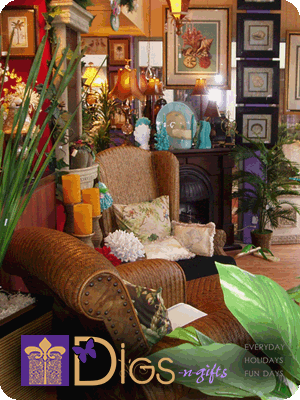 Welcome to Digs N Gifts
Home Decor & Gifts for Everyday, Holidays & Fun Days!
We provide a vast online shopping collection and feature some of the best shops for shopping in the Fort Lauderdale South Florida area. From Interior Digs, home decor, accents, lighting, table top accessories, candles, art, collectibles, greetings cards, jewelry, paper goods, party goods, and unique one of a kind gifts for any occasion along with the complete year round Seasonal and Christmas Store with Christmas decorations and Decor for all the Seasons.
Find Birthday Gifts, Host Gifts, Special Event Gifts, Monogrammed, Engraved and Custom Personalized Gifts, Wedding Gifts, Anniversary Gifts, Themed Gifts and Decorations for Christmas, Valentine's Day, St. Patrick's Day, Spring, Easter, 4th of July, Halloween, Fall, Thanksgiving, Passover and Judaic gifts. You're assured to find something for just about anyone on your list. Follow us for new arrivals specials and more: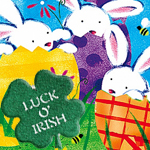 Our Featured Products This Month Include...

Easter Decorations and St. Patrick's Day Decor, Easter and St Patricks Day Gifts from Jewelry, Candies and Perfumes to Candles and Home Fragrances, such as Decorative Sachets, Easter and Spring Candles , Irish, St. Patricks, and Easter Ornaments Galore … Glass Ornaments, Themed Ornaments, along with Designer's Mark Roberts Easter Bunnies Fairies and Elves Mark Roberts St. Patricks Day Fairy and Elves and Spring Fairies and Elves, Individual and Boxed Easter Cards, Easter Candy and Gourmet Food Gifts, Caspari Spring and Easter Napkins and Paper Plates. Plus our Everyday Cocktail Party Napkins, Paper Plates , Nambe Designer Museum Quality Barware and Home Decor , Tableware, Serve-ware and much much more for Festive, Fun Holiday decorating and Decor!!
"If you need a starting point check out the Waxing Poetic Jewelry Collection or some unique lighting and accent furniture from Zodax and Mark Roberts stylish home collections. If Home Fragrance is your thing we have got you covered ... Lampe Berger Fragrance Oils and Fragrance Lamps are divine! So are the candle and home fragrance collections from Archipelago, Aromatique LAFCO New York, Nest Candles, Rosy Rings, Thymes and more. If its Tabletop Decor we've got it from fine Paper Goods and Paper Products from Caspari Entertaining, Scout Bags, Slant, Mud Pie, Two's Company Zodax to Mariposa and Nambe Metal Serveware and Exquisite One of Kind Handcrafted Dinnerware, Flatware, or Hand-blown Glass Stemware from Riedel Nachtmann, Speigelau. Wedding Couples Brides and Grooms alike, will have a variety of these exceptional brands on their Wedding and Gift Registries every time. Many pieces we feature are truly a work of art. Oh the Pets! Can't forget them. If looking for a pet gift, cat or dog toy for yourself or someone you know that just got a new pet...browse through the signature Light Up Collars and Leaches along with our fun toy Collections. And that's just to get you started...Click on any collection and start browsing and shopping now! Happy Shopping " - Mr. Digs Sr. Manager, FL
Home Decor, Accents, Lighting, Flowers and Floral, Home Fragrance, Candles,Tablewares, Wine and Bar Accessories, Placemats and More….

Ceramics, Figurines, Pewter Items, Crystal Gifts...If its a collectible you'll find it in this collection! Themed Gift Collections for Birthday, Wedding, Anniversary, Mom and Mother's Day, Dad and Father's Day Gfits, Grad Graduate and Graduations Gifts, New Born New Baby Gifts, and More....

Christmas Decorations Seasonal Decor for just about every holiday or Season! We Feature Valentine's Day Decorations, St. Patrick's Day Decorations, Easter Decorations, Spring Decor, Patriotic, 4th of July, Fall, Thanksgiving, Halloween, and more...

Earrings, Necklaces, Rings, Bracelets, Watches, Broaches, Purses, Clothing Apparel, Charms Beads, Stunning Charles Albert Jewelry inspired by Nature, Fossils, Naturals Stones and More …

Cards for any occasion, Birthdays, Holidays...Thank You Notes, Note Pads, Stationery Gift Sets, Boxed Christmas Cards, Gift Wrapping Paper, Gift Tissues, Gift Bags, Advent Calendars, Inspirational Books and More ...

Indulge yourself in ambience with our home fragrance products...
Votives, Candles, Candle Pillars, Ball and Sphere Candles, Square Candles, Reed Diffusers Room Mists and More...

Christmas Fairies, Sping, Fall, Find them all...
We feature one of the largest Mark Roberts Fairies and Elves Collections out there in sizes from small to life-size! Celebrate the Magic of Christmas!

Live in air you love! Experience superior home fragrance with a Lampe Berger Fragrance Lamp. Don't bother with any other...These are the Paris originals and simply put the best!

Decorative Silks, Flowers Plants, Floral Stems, Picks and more…