Summer Decorating Ideas for Outdoor Living Spaces

Fun Ideas for Indoor and Outdoor Spaces!
Summer Time! Wahoo!  The sound of it makes me just want to start planning my escape from the heat and humidity and get the A/C units checked. The next item on my list … Summer Decorating Projects! 
My personal preference is to keep summer projects simple and on the light side since there's already a lot going on with summer activities from Memorial Day, 4th of July, pool parties, barbeques, picnics, and so forth. So I remind myself that my goal is to enhance and build upon the summer festivities, not create more projects that are going to end up looming over my head. So here are some ideas to start off the summer decorating series beginning with our first topic: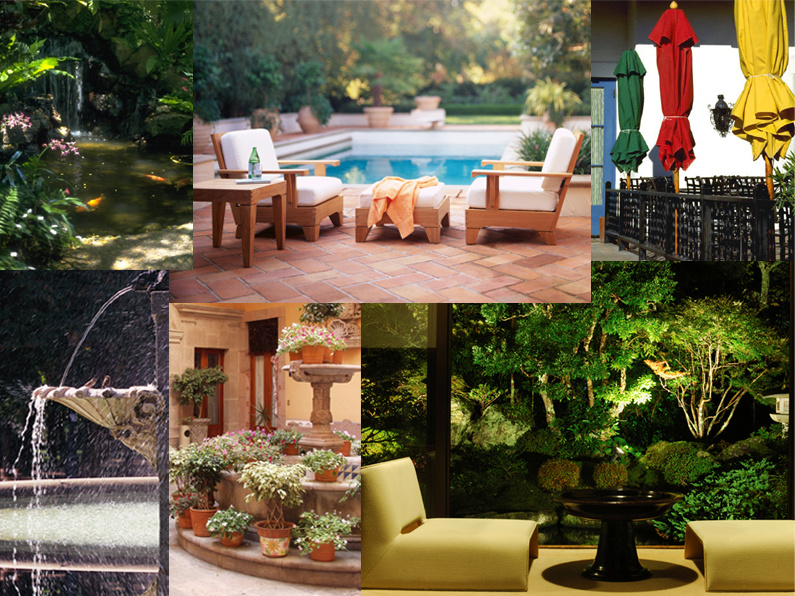 Romancing Our Outdoor Living Spaces
Versatile exterior living spaces are enjoyed by many of us here in Florida. We use them for relaxing, patio dining, hanging out with family, entertaining friends and laying out by the pool. More and more we are bringing the indoors out with an ever growing emphasis on comfort and personal delights. In the same manner we romance our interiors we can carry out the process to our outdoor spaces. Spruce and freshen things up by adding color just as we do indoors with, say with changing out of some accent pieces, throw pillows, centerpieces and so forth. Seating areas also get treated in the same fashion by arranging and grouping vignette seating areas so they're conducive for conversing along with their complementing side tables to set beverages upon.
The Magic of Paint! Outdoor paints today are expanding into an endless selection. Rather then replacing, consider re-use of your existing outdoor furnishings. You can use paint to update an outdated color scheme or as a simple enhancement for example of a plain wicker set with say a soft trendy pastel color. Personally I like the look of the darker especially on the wicker/rattan style furniture, just keep in mind the darker colors absorb more heat from the sun (especially metal) unlike the lighter colors which reflect the light. They are also more subject to fading. In either case if you go the painting route, consult with your local paint professional to get the job done as simply as possible and with the use of the correct materials. When you're done it's time for the cushions and with comfort being the emphasis these days, consider adding overstuffed ones along with supporting pillows.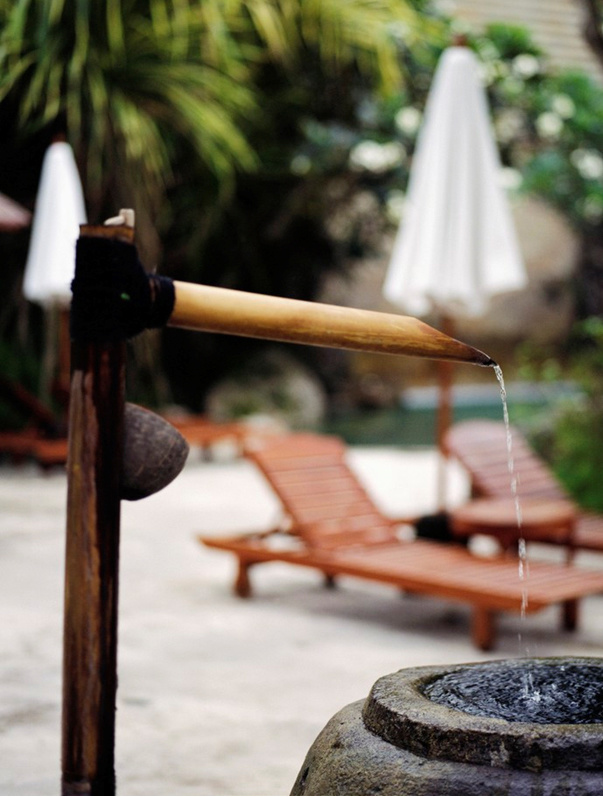 Water features are always a quick easy and calming element for any outdoor living area.  Great use on a small or large scale. Found in a variety of types and price ranges such as fountains, reflection pools, lily ponds, to the more extravagant waterfalls.
Additional outdoor paint applications could include accenting an outdoor wall to complement your setting or theme. If you don't have a view, create one! Add a tropical mural, stenciling, or outdoor metal or ceramic wall art. Decorative framed tile groupings are fun too.  The options are endless out there. Those plain white concrete garden statues many of us have can also be painted with a complementing color for a cohesive look and really pull the outdoor theme together. I am not talking a contrasting bold dramatic color just a light monochromatic hue in a lighter shade of the predominant surrounding colors perhaps from your pavers or decking. It will tie them more fluidly within your space. It's these subtle yet minor touches and details that make a big difference.
Weather resistant outdoor area rugs are in the trend mix too. There are even ones out there are made to absorb and dissipate liquids, be out in the rain, and are stain resistant. Spill red wine on it and where it goes we still don't know but it truly disappears leaving no indication of any spill.  Ask for us for a demonstration as we loving showing people. Very Cool!