Spring into Summer Decorating Tips

Time to Cool Down our Decors and Bring in the Outdoors!
I love this time of year, it's that short window we get here in South Florida with those clear blue sky's and crisp fresh breezes that last about two or three weeks before the humidity rolls in. It just makes me want to break out the Mr. Clean and start tossing those items that I don't even know why I keep saving in the first place.  And if you know me you know how much that is true as you have heard me utter repeatedly …"don't throw that out …I can make something out of it later". However there does come a time when it gets out of control, when we can longer get into that spare room or closet, and we find ourselves agreeing with the humorous plaque in store that reads "Martha Stewart would die here" and when that's the case it means it time to apply the first rule of thumb that we always hear. DECLUTTER!
So while we have Mr. Clean and Martha creating havoc in our heads why not use them to our advantage and let them drive us to begin the interior cool down process for the heat of summer.  Just like we put away our sweaters we can as well put away some items and make some minor changes around our homes. Being in South Florida we are pretty much in cool down mode all year long and why it's important to switch things up bit to minimally remind us of the seasonal changes. A starting place could be with say slipcovers. By using a lightweight fabric over upholstered sofas or even just pillows, say in a cotton or linen, it will not only change the look by giving a room a casual spring and summer feel but also add some protection against the wear and tear of summer. Try putting away some of the darker accessories and artwork and put up some pastel prints out light colored candles for accessories along with some summer baskets filled say with seashells. Those pastel eggs from Easter can still be used to in arrangements and so forth. Just make sure they're hallowed out or the porcelain ones.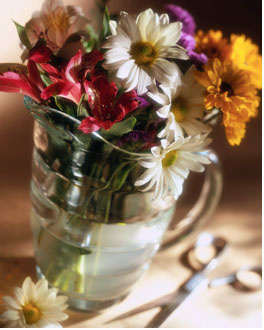 For attractive mixed flower arrangements every time make sure to choose the appropriate size vase in relation to the size and height of the flowers; remove all leaves below the waterline; cut the stems on an angle underwater with a sharp knife; use water with preservatives; start with the tallest of flowers in the middle, circling and integrating shorter ones around them and shortest around the edge until you have a uniform shape; add the greens last and if needed add Spanish moss along the neck to fill in the base.
Spring and summer are also a great time to bring in the outdoors! Plants and Flowers always add a serene effect and some life to any room. If you don't have a lot of natural light or a green thumb there are great silks available out there today or a water elements such as the sound of water from a fountain are great as well.  A quick way to spruce up the look of your indoor greenery simply and affordably is finish them off with some Spanish moss on top of the soil in your pots. It's the little details that make all the difference. Also if you're adding floral arrangements to your home, coordinate them for an elegant effect with your existing artwork, fabrics, paint colors and so forth for a coherent color scheme. Make sure they also fit the place where you're displaying them for example as a centerpiece on a dining room table will need to not only to look beautiful on all sides but also want your guests to be able to see over it.
Another way to bring the outdoors is with Clustering potted plants around the house. They're great for filling an awkward space or to balance out a piece of furniture in a room. Vary the heights of the plants and for a more dramatic effect add some lighting say an accent light or back lighting from the base of them.
Try applying these mini-seasonal makeovers through out every room in your home, it will give you and your home a renewed feeling and look for spring and ready for those hot summer days around the corner. And remember if that doesn't cut it there's always that freezer section at the supermarket.