Alchemia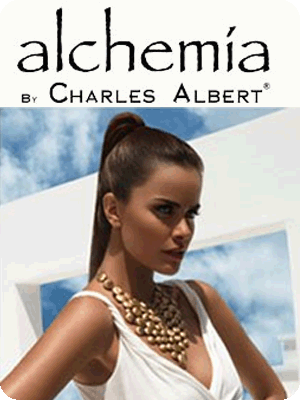 Alchemia by Charles Albert Jewelry
Alchemia by Charles Albert Jewelry Collection features Handcrafted, One-of-a-Kind Jewelry inspired by the ancient mythical craft of transforming lesser metals into gold....Alchemia is created through base metal infusion - a process of bing base metals in specific proportions to create the look and feel of 18K gold. The alloy is nicle free, lead free and is also lacquered for added protection.
Alchemia is the most high quality , cost effective alternative to precious metals on the market today. All the stones are natural and are hand set in Alchemia "Zero Karat Gold". They are created by the same skilled artisans that have been crafting the Charles Albert Fine Sterling Silver Collection. Finally - Fashion Jewelry that will last! Alchemia Jewelry by Charles Albert is truly affordable luxury.
Charles Albert scours the globe to find the best in fossils, minerals and gemstones to set in his jewelry. Using Amethyst from Brazil, Ammonites from Madagascar, Peru and Morocco, Obsidian from Mexico as well over 100's of other fascinating stones, Every single piece of Charles Albert Jewelry is meticulously handmade by the finest artisans in the world earning Charles Albert a reputation for producing exquisite quality jewelry art, ready to wear!
All Images Designs and Text are Copyright© Charles Albert, Inc.