Cacamamie Game

Cacamamie Game Cacamamie The #2 Game in America™. A party game for immature adults. 
This Game Stinks. 
Dive into a crazy combo of trivia, charades, all-plays, voting, and other unexpected twists to keep you and your potty-mouthed family and friends amused. 
At every turn, you'll learn fun nuggets about players' secret habits and surprising facts from the annals of history, science and pop culture. 
Cacamamie is the adult party game that shamelessly goes there. 
Get ready to laugh your butt off!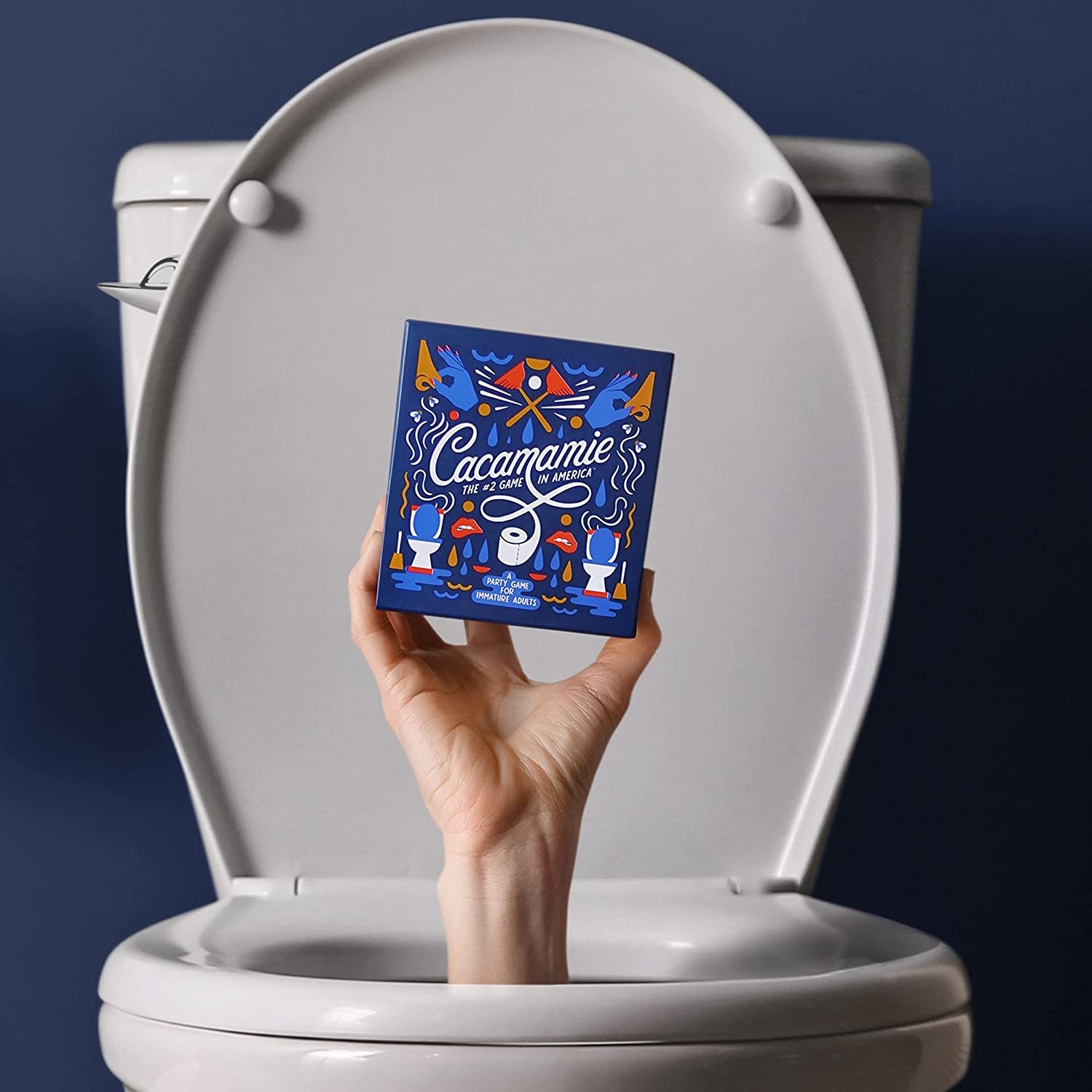 Features:
A Crazy Fun Combo of trivia, all-play, voting, charades, and more.
Potty-Mouthed Humor With Entertaining Nuggets and surprising facts from pop culture, history, and science.
It's Travel-sized! for get-togethers, travel, cabin weekends, late night laughs, and spontaneous gift-giving.
Insta-hip Design makes it ideal to leave out on the coffee table or bookshelf.
It's Quick and Easy to start playing with 4 or more friends.
Ages: 17+
Players: 4-10
Time: 20 - 30 Minutes. 
Shop Party Games Box Games Funny Games Game Night and Card Games Themed Gifts in-stock and ready to ship now at the Digs N Gifts Shop Online Today with Fast Shipping or In-store for curbside or local pick-up. 
Cacamamie Card Game Rules & Instructions
Quick Start
OBJECT
Be first to get rid of all your Caca Cards.
SET-UP
•4-10 players
•Separate Caca Cards from Game Cards
•Deal each player 3 Caca Cards and place the remaining Caca Cards deck to the side. For a longer game, deal more Caca Cards
•Shuffle the Game Cards deck and place it face down in the middle
GAMEPLAY
•Whoever pooped last goes first
•When it's your turn, you're "on the Throne" and possess the Throne card (card use is optional)
•The person to the right of the player on the Throne is the Card Reader. They pick up the top Game Card and read the card aloud to the player on the Throne. Note: Card Reader does not participate in play on that turn
•Follow the directions on each card
•The Throne card is passed clockwise with each turn
•The first player to drop all their Caca Cards wins
Now, let the potty-mouthed immaturity begin!
Gameplay

The player to the right of the player on the Throne reads the card.
Card Types
THRONE CARD

Whose turn is it? This card is held by the player whose turn it is, then passed clockwise. Use is optional.
CACA CARDS

Each player is dealt 3 (or more if you want to play longer) at the beginning of the game. First out, wins.
Game Cards
KNOW YOUR CACA

These are the trivia cards. The questions are a mix of multiple-choice, true or false, and open-ended.
ALL PLAY

Questions any player (except Card Reader) can answer, regardless of who is on the Throne. Each player gets 1 answer. Anyone can win and drop 1 Caca Card.
EVERYBODY VOTES

Everybody (except Card Reader) votes on who is most likely to do something. The guilty player who gets the most votes picks up 1 Caca Card. Tie? Card Reader decides.
SHIT SHOW

Caca charades. All the same rules for charades apply. Basically, communicate the clue without words or noises. Use a phone as a 30-second timer.
SHIT HAPPENS

These are cards that randomly give and take away Caca Cards. Like a toilet full of chocolates, you never know what you'll get.
DOUBLE DEUCE

The player on the Throne gets another card. Whatever the result, double it. Example: answer a multiple-choice question correctly, drop 2 Caca Cards. Draw another DD? Discard it and draw again.